We're glad to welcome you! My name is Svetlana. I am a breeder and owner of the nursery of British cats "Маnmarensy".
How it all began?
Our cattery is registered in 2006 year by FIFE system and began its existence with the acquisition of British shorthair cat blue color named Pierre. This is my first pet of noble blood.
I brought it from Vilnius. He is a wonderful representative of his breed. Huge orange eyes, short light blue wool, noble profile and full face, strong bones well, just a dream ladies British-Style). And so it was. Pierre closed the title of Champion of Inter, He gave us many babies and blessed many British ladies.
He now lives happily in a friends family.
And in 2009 year at an exhibition in Moscow, I noticed a beautiful kitten in color silver chinchilla. Baby Jasmine won my heart, and not just my. At the exhibition she showed excellent results and went to Brest, leaving behind numerous competitors. She was 3 months. at the time of our first meeting. And of course, this meeting was significant for both of us. A month later, I returned to her.
After a while we started her show career. She immediately captivated huge enormous eyes, the color of malachite judges and quickly closed the title Champion Inter. Well, and I began to search for her fiance, and I was lucky enough to find it in Germany. My colleague advised to pay attention to him. I deliberated long and through 5 days went to a distant Hannover. oooh. It was Bingo! I had to choose from 4 kittens. It was complicated, when such extraordinary kittens swarmed from all sides and everyone was trying to draw attention to themselves . Of course, choose us, and allow us to think so, that we choose). Indigo has found the key to my heart and he went home with me.
At home, he was given the name of Boris gentle disposition and a desire to always once again touch me, to my hand, to my foot. He is like a young bull butting and pat, and of such a nature and character remained with him until now. He easily charmed judges and its turquoise eyes, and snow-white fur and unusual character. On the tables, he behaved, like a kitten. He played, growling and he was absolutely still on the, that he was in an unfamiliar environment. He thought of himself as a hero of the exhibition. And so it was. Borka easily closed the title Grand International Champion and Champion opened Supriya. But I decided to stop his show career.
He makes us happy at home and he is the best for me! He is the father and grandfather of our wonderful kids. In alliance with jasmine successfully formed blood. Our kittens are very intense eye color, he or dark malachite, like Jasmine or deep cold turquoise, like Borka. And they even gave me a wonderful surprise. They are always in a litter born along with silver chinchilla and blue-eyed Points. I'm very happy, that in those days I found my ancestor and founder of Jasmine Borka. And their children are pleased with me and their new owners.
This is my second cat blue color named Ramses. An extraordinary boy with a big bone and light fur.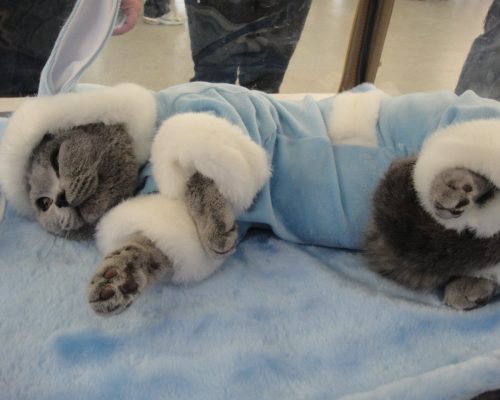 With this nice and charming kitten, color blue gold, I started my line of gold kittens.
We are engaged in the development and breeding kittens silver and gold colors. As well we have a wonderful breed Pomeranian puppies.
We love our cats, We treat them with great care and attention. All our cats and kittens do not live in separate rooms, but with us, grow in our mind and are full members of the family. Our children are grown with love and care, From the first days of life are getting used to the warmth of human hands, whiskers, close contact with someone. surrounded by love, kittens grow trusting and affectionate, quickly adapt to new homes. Every kid we passed through my heart and soul. We are able to devote sufficient attention and quality care to their producers and each kitten, born with us.
The purpose of the nursery – obtaining high-quality litter of breed characteristics with good health and stable psyche, people-oriented. kittens, leaving us after 3-4 months, They come into a new house socially adapted, obshtitelynыmi, accustomed to the tray and kittens, and be sure to provaktsinirvannymi.
Our animals and graduates regularly participate in exhibitions and confirm this with numerous titles. We look after their health. They are vaccinated in a timely manner and properly fed.
With our ancestors you can find on "Our cats" page. And also pick up a furry friend with a remarkable character on the page "Kittens for Sale".
If you decide to buy a tender, a true friend for many years in our kennel, we will gladly answer all your questions and will provide full support in choosing a kitten!